(SMM) Social media marketing is one of the main ways to increase sales and revenue for companies, no matter their size or dominance in the marketplace. Social media successful promotional events like Giveaway contests are handled by social media giveaway picker. However direct communicating with customers and the ability to reach targeted audiences at a minimal cost has made social media marketing irreplaceable. This way companies can promote their products and achieve their goals in a shorter period of time.
The various social networks organizations use are:
Facebook
Twitter
Instagram
Foursquare
Pinterest
Social media marketing is type of internet marketing. It includes content creation( both textual and visual data) and sharing it on official social media pages of an organization to achieve marketing and sales goals, building brand image and loyalty among customers.
Different companies use different strategies to keep their audience engaged to their page, to retain and increase the number of followers they have for their pages. The most commonly used strategy is ABC strategy.
1. ABC Strategy
It is posting three types of content to keep your page interesting and followers engaging. The three types of posts are
A — posting information about products, promotions and giveaways,
B — sharing general information about business in your industry, it is to be noted to avoid posting about your competitors as there is a risk of losing your customers,
C — posting general and societal information.
2. How to start social media marketing?
The first step before creating contents for social media marketing is to define your business goals and target audience. Starting a social media marketing campaign without reliable research can be counterproductive and a waste of time.
Checklist before starting social media marketing
What is my business and sales goal?
Who is my target audience?
The behavior of my target audience in social media handle
Strategies and contents used by my competitors
Plans to interact with followers
Various types of social media strategies can be used depending on their business. Cosmetics company can use Instagram to post pictures of their product, the effects of products on customers by comparing before and after use pictures (similar to the 10-year challenge which was popular on Facebook and Instagram recently). Social media giveaway picker tool is used to bring more followers to the social media accounts. This is how the information can be used again for direct selling strategy or for re-targeting the customers
3. E-commerce and Social media marketing
E-commerce and Social media marketing go hand in hand. They both require online presence and targeting your audience, their main advance is the feedback data you get from your users. These feedback is very important and can help the companies improve their revenue and brand image.
The three stages of E-commerce
The first stage acquisition is getting the customer to see your website, it can be done by google search, social media marketing, content marketing or paid promotions.
The second stage is recognition which is making customer interact with your website, recognize and like your product
The final stage is conversion, it is when a customer purchases a product from your website, he is no more a targeted customer but an actual customer
E-commerce websites use various tools to analyze their traffic such as Google Analytics.
4. How can Social media marketing improve E-commerce business?
Social media marketing can be used in the following ways:
— Increase website traffic
— Create brand awareness
— Raising brand awareness
— Providing customer support
— As a communication channel to the audience
— To promote sales
— To receive feedback
— Target potential audience
Marketing goals are easier to achieve if there is a wider range of audience on social media. If you have bigger audience, chances are your campaign will be seen by more people.
5. Tips For Successful Social media marketing
1. Create a dedicated budget
Though social media marketing is one of the cheapest types of marking, still it costs to create contents, for paid promotions, and to run giveaway campaigns. Hence, it is necessary to create a dedicated budget for social media marketing. Creating a dedicated budget will allow you to get a more clear picture of the rate of return in social media marketing.
2. Choice of Contents
It is proved that posting visual data such as videos or images will reach about 300% more audience than posting textual data. Therefore, it is important to post pictures and videos consistently in social media to entertain the audience and increase followers.
Furthermore, sharing contents relevant to your audience which will be helpful and engaging to them is essential for them to be active in your social media profiles.
3. Paid promotions
Paid promotions can be used to promote your products on social media. New business or a start-up will have a relatively smaller number of audience when compared to their counterparts, with efficient planning paid promotions can be used to increase the number of people aware of your product and brand. Even established organizations like Samsung, Nike, for instance, use paid promotions to make potential buyers aware of the products they offer.
Paid promotions are cheap in social media when compared to Google Adwords or paying for inorganic traffic to your webpage.
4. Communication
Communication with followers on social media pages and responding to their queries or complaints are vital in social media marketing. It builds trust among consumers regarding your products and increases brand image.
Wendy's customer interaction on Twitter is one of the classic examples, Wendy's is a multinational fast-food franchise, it replies to almost every tweet of customer complaints and answers customer queries in a creative and humorous way.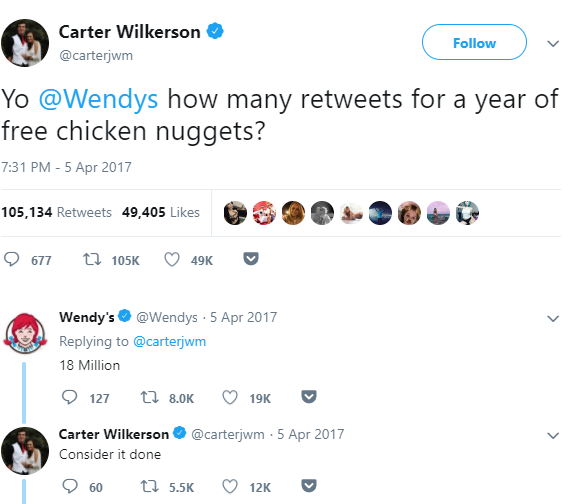 6. Knowing your competitors
Studying how competitors behave on social media, will help you understand what works on social media for your particular product, and what doesn't.
When analyzing your competitors, the key areas to look are:
— Contents they post
— The popularity of their posts
— Time of their posts
— The time interval between their posts
— Hashtags they use
— Number of audiences they have in their account
Studying these will assist you in deciding whether to use similar strategies used by them or to implement a new plan to attract your followers
7. Giveaway campaigns with social media giveaway picker
Followers giveaway is one of the most effective strategies to engage with their customers, promote new products, encourage sign-ups etc. This way you build brand image among potential buyers of your service or products.
However, selecting a random winner is the tricky part of giveaway campaign. Since you should include everyone that wants to participate and be impartial when picking your winner. For this purpose Osortoo has developed the Winner Picker tool. This social media giveaway picker tool is helping you pick a random winner on Facebook & Instagram. You can choose from the likes, comments and reactions you got to you post.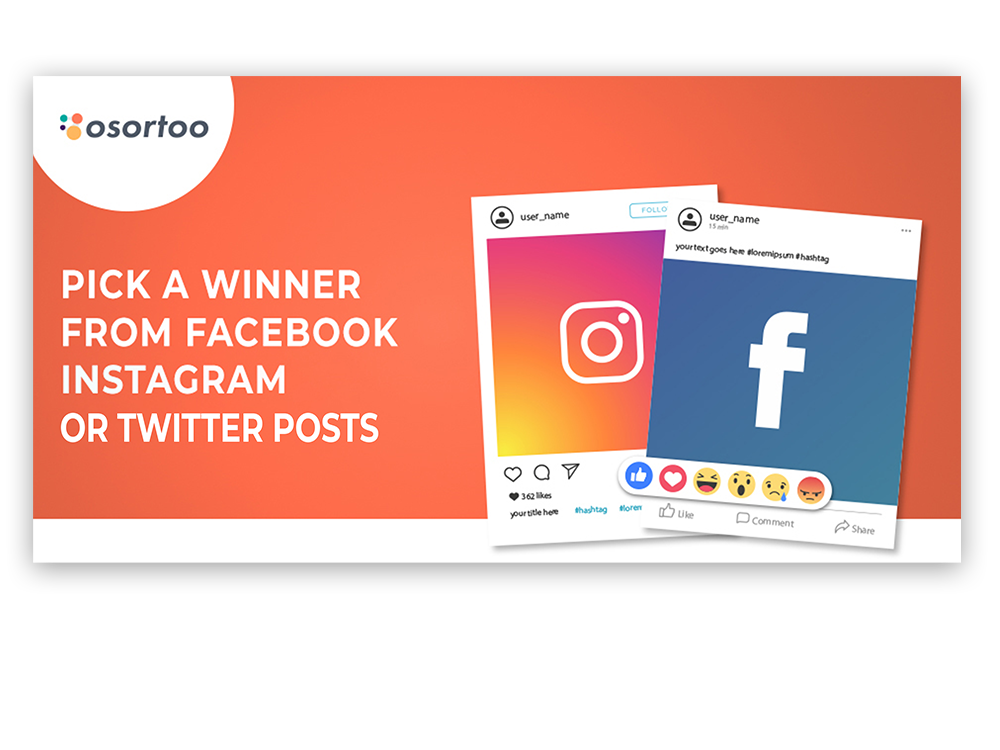 The best thing about this social media giveaway picker is the ease-of-use, users do not need to be a tech savvy to use and navigate through the website. The design is clean and it is a lot more useful tool compared to other random pickers.
7. Social media management tool
A social media management tool is a software which is used to post, monitor and manage multiple social media accounts across different platforms using a single interface.
A company cannot run a successful social media campaign form only one social media network, it necessary to be active in all popular social media platforms, each platform is unique and best used a company posts tailormade content for each platform.
The contents that are generally encouraged to post in different social media handles are:
Instagram — High visual images and short videos, giveaways.
Facebook — Visual and textual data, external website links, survey, giveaways.
LinkedIn — articles, professional information, blog links.
Twitter — customer queries, complaints log, promotions.
Hence, a social media management tool is required to manage these handles seamlessly. There are various free social media management tool available online, but If you are serious about social media marketing we recommend you to get yourself a paid versions.
Social media giveaway picker:
Using social media giveaway picker, will increase your chances of being unbiased. It gives you data of your clients to market in multiple ways of sale. You can re-target them for more promotions. Not only that with multiple features like Live Contest, Multi-Platform Picker, Contest history and scheduling for future, multiple entry deduction. Social media picker is very effective in reading all the entries and giving best unbiased answers.
Conclusion
Social media marketing is an effective marketing technique not only for startups but also for established organizations, Setting up clear goals, choosing the right methods will help companies increase brand awareness, raise sales of its products or services.

Using helpful software and tools are necessary for improving promotions. Furthermore, the rate of return in social media marketing is high when compared to other types of marketing which makes it highly recommended marketing strategy. Social media marketing is one of the main ways to increase sales and revenue for companies, no matter their size or dominance in the marketplace. This way companies can promote their products and achieve their goals in a shorter period of time.