Forms, the cornerstone of your marketing strategy. When it comes to lead generation, forms are  absolutely essential. Osortoo Forms are an optimized way of organizing and enhancing lead generation.
These data collection tools are formidable weapons as long as they are well designed and thought out. These are calls to action, they stimulate commitment and promote your business.
Benefits of Forms
In other words the forms are very useful for the purpose of:
Segment your leads and set up a system of «lead scoring» to better navigate but also to know them better.
Reduce the sales cycle (by knowing your prospects better, you can quickly offer them what they want according to their expectations).
Increase your email database
Engage your audience
Make your platform or event more interactive.
Know the desires of your community.
But for that, it is necessary that your form is optimized, highlighted and that it arouses an interest of your audience. Osortoo is the platform that can help you on every step of creation of these forms. Not just that, with the great presentation layout, you can appear legitimate and a bigger corporation. Osortoo Forms are thus an essential tool for marketing mix
Content
The information required for a questionnaire is very important. You must first gather all all the information's you need to know and measure its importance. You have to adapt the size of your form to what the user has to gain. It is best to reduce the size of a form as much as possible to limit errors and engage as widely as possible.
Always remember to give some guidance on which fields to fill (how the field should be filled, especially dates and times). Remember also to indicate the mandatory fields in your form. Don't put too much mandatory fields, because that way you lose participants.
Call to action
Call-to-action term is a very important point when developing your forms. The user must be stimulated so that filling the form is not a chore but a pleasant task. For example if you want to organize a contest through a form, prefer terms like «I participate» or «I enter the competition» on your submit button.
Title
The user takes part to something, his participation is not only recognized but also has a real impact. Do not forget to give a significant title to your forms, this is very important for the identification of the request by your users.
Warning
If the user fills a field with an error or in the wrong form, plan a specific warning message so that he does not have to re-fill the entire questionnaire.
Thank you page
Do not forget a page of thanks and confirmation. On this occasion, you can invite the person to follow you on social networks or redirect them to a page of your site or an external page.
Email Notification Confirmation
If you wish to send e-mail communications to those who fill out your forms, always include a check box on your form to obtain their consent. In some countries, it is illegal to use a contact for marketing purposes without permission and this can produce lawsuits (Canada and France have laws like this).
Also it's good practice to show your users your Privacy Policy before they consent to enter their information.
Osortoo Forms Layout
Integrating your form into a dynamic page will surely draw more visitors and would be shared easily. Tools like Osortoo offer you to create dynamic forms, with our own background and buttons.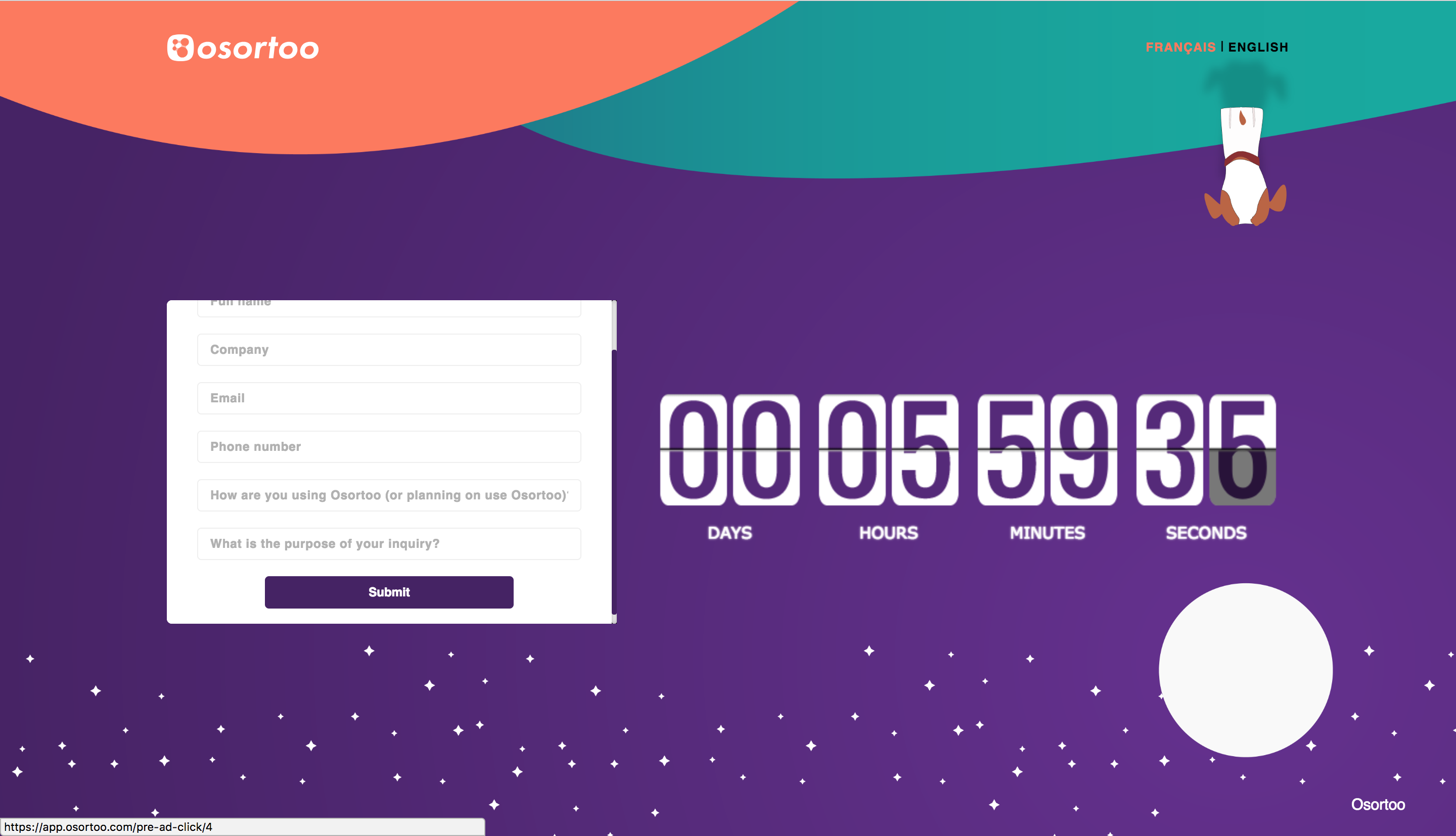 Color Scheme
You can also choose your color scheme. Colors are very important for forms because they make them visible and direct the participants attention. Work on the color contrast to bring the form in focus in Osortoo.
Finalization
Once your Osortoo dynamic form is complete, it is necessary to perform tests to ensure that your form is functional and collects the data you need.
Moreover grammar and spell mistakes, as well as illogical questions can turn users away from your form. That's why its important to do few tests before sharing your form with the users. See how the outline looks like, do the questions seem logical and does filling out your form feels engaging and fun or boring.