Wouldn't it be great if you had an app for picking winners on both Instagram and Facebook?
Picking from both, at the same time? In one contest?
Organizing giveaways on social media is one of the most effective strategies to engage with your followers.
It's the secret behind the growth of many brands and influencers.
Through giveaways you can promote new products, encourage sign-ups and build brand image.
Now there is just one problem, how do you pick your winners?
If 10 people are participating in the contests, you just scroll through and pick someone randomly.
On the other hand, if you have thousands of comments, what do you do then?
Take a look at this post from The Sole Women on Instagram. How can you choose from a post that has almost 2000 likes and over thousands of comments?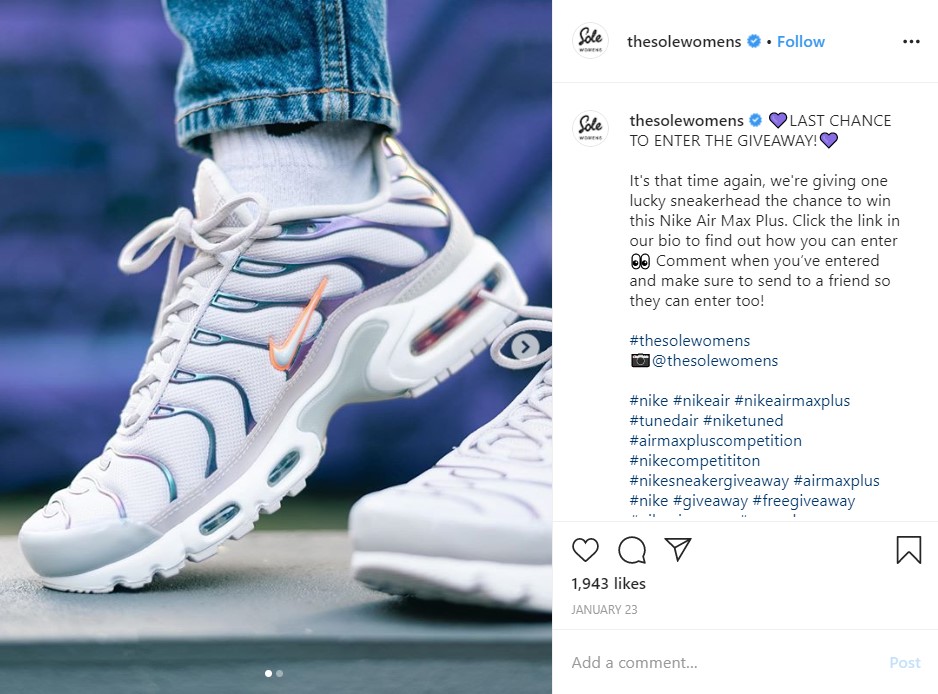 You would have to scroll from here to infinity (and back). How likely is that you would do that?
You will maybe go through the first few hundreds and pick someone, but that's not fair.
So, what's the solution?
OSORTOO: APP FOR PICKING A WINNER
It's easy, you need an app to randomly generate a winner from Facebook and Instagram comments. We present you Osortoo!
Osortoo is the best Instagram comment picker app on the market.
Osortoo is a free app* for picking a winner, it's easy to use and works great on all social media platforms.
So how can I make a Giveaway using Osortoo?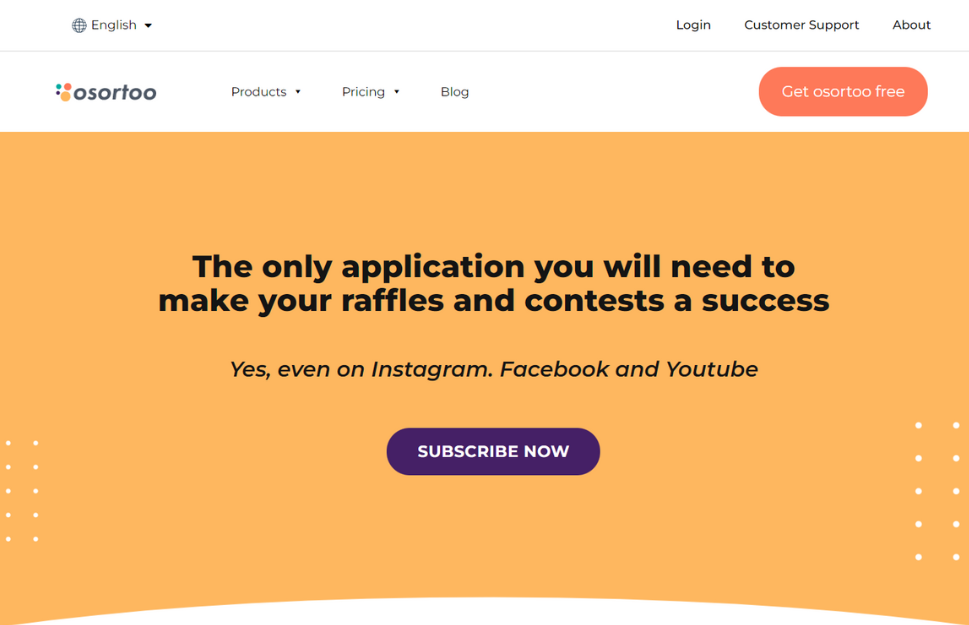 or since you are here just click on https://app.osortoo.com/register
Enter your email and password.
You will receive a confirmation mail, so please confirm the mail.
Step 2: From the left menu, select Social Media Picker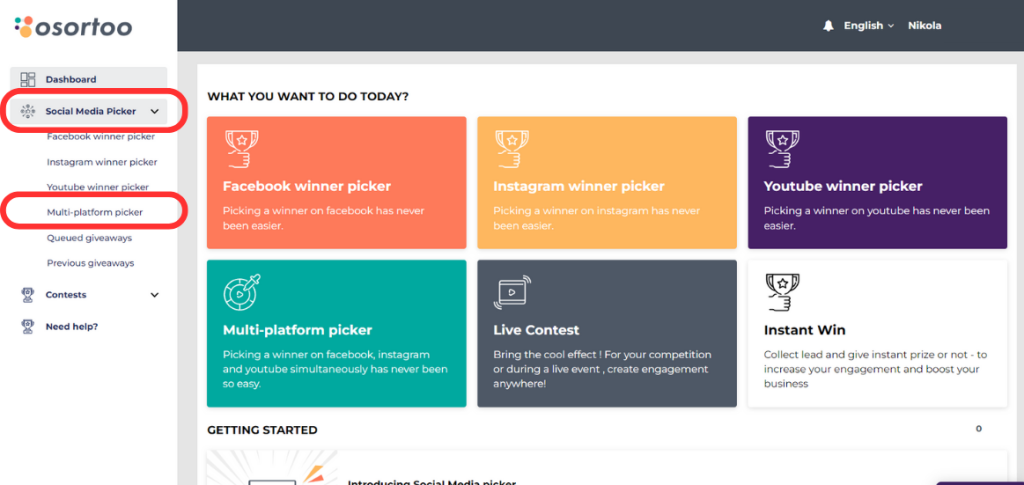 Choose on what platform do you want to pick your winners?
You can use our app to pick a random winner from Facebook comments, Instagram comments or both.
Instagram Giveaway picker as the name implies, picks random comment winners from comments on Instagram.
Facebook Giveaway picker picks random comment winners only on Facebook.
Try our exclusive Multi-platform feature, pick winners from Instagram + Facebook at the same time.
Also you can pick winners from multiple posts on both platforms. How cool is that?
Instead of making two or more separate Giveaways, now you can make one giant Giveaway and everyone can participate.
With this you will be able to gather all your followers at one place. It's a great way to grow your audience.
Don't worry, we have a special filter to remove doubles that we will show you later.
Step 3: Name your Giveaway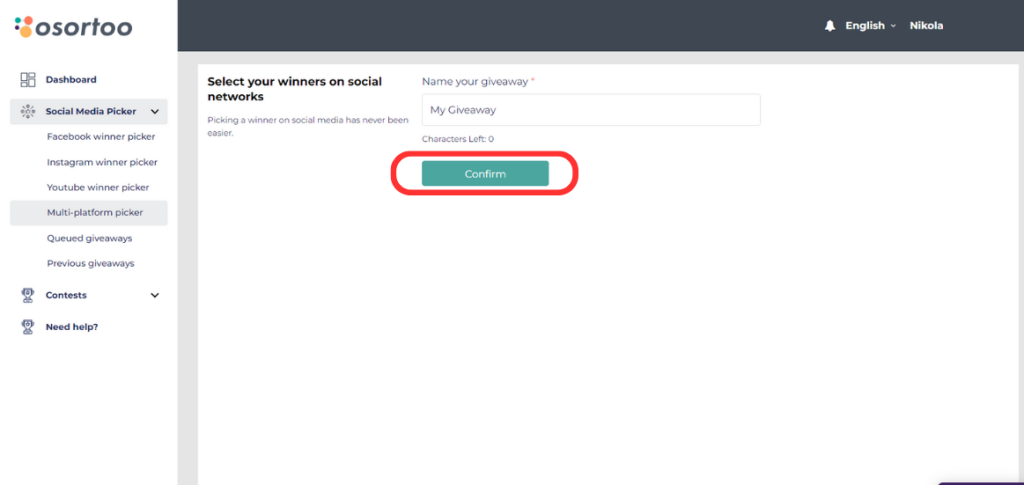 Name your giveaway and click Confirm.
Step 4: Connect Osortoo to your Facebook account
You will be asked to Connect to Facebook and give permission for your Facebook and Instagram pages.
Facebook owns Instagram, so through Facebook you give your permission for the Instagram pages too.
You must be an admin of a given page to select it and pick winners.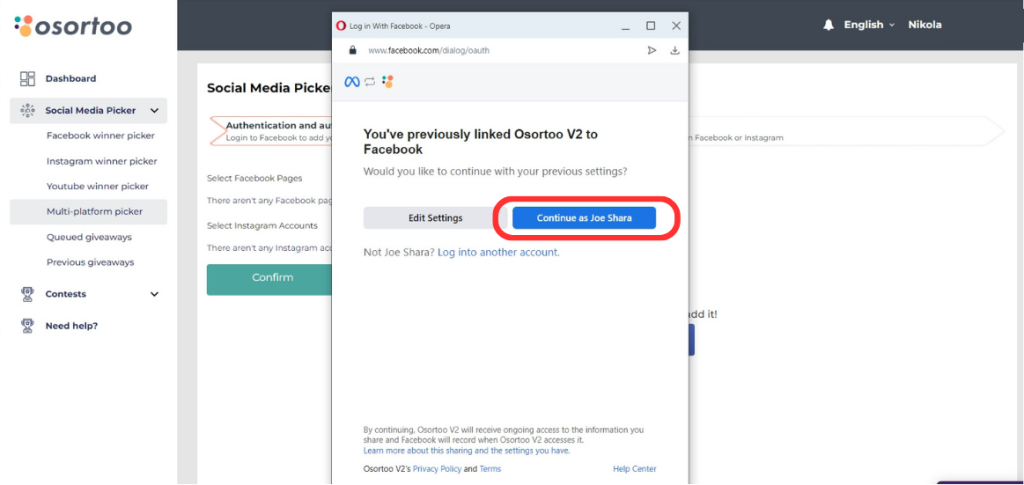 *We won't post instead of you or show anything on your timeline, don't worry.
If you have any problem connecting your Facebook to Osortoo take a look at this short guide.
Step 5: Select your Pages
Select your Facebook pages.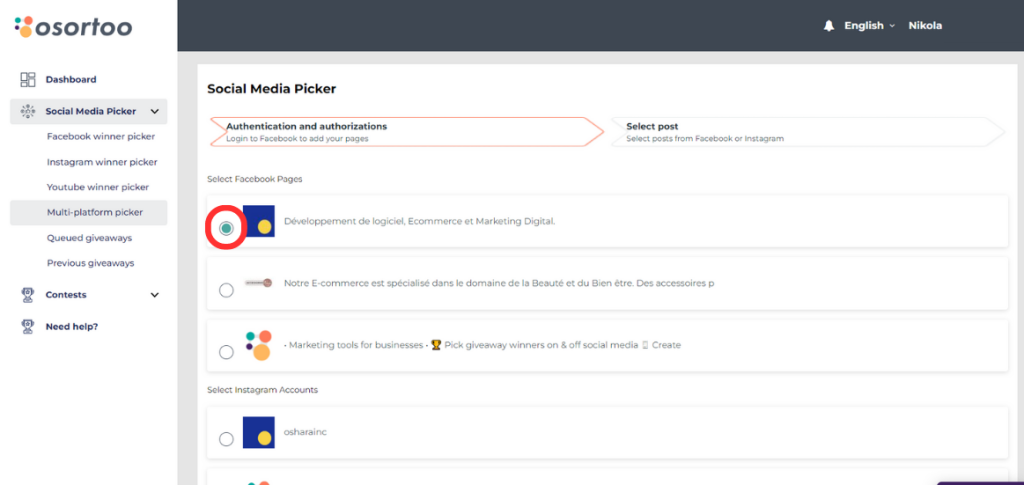 And your Instagram pages, and click Confirm.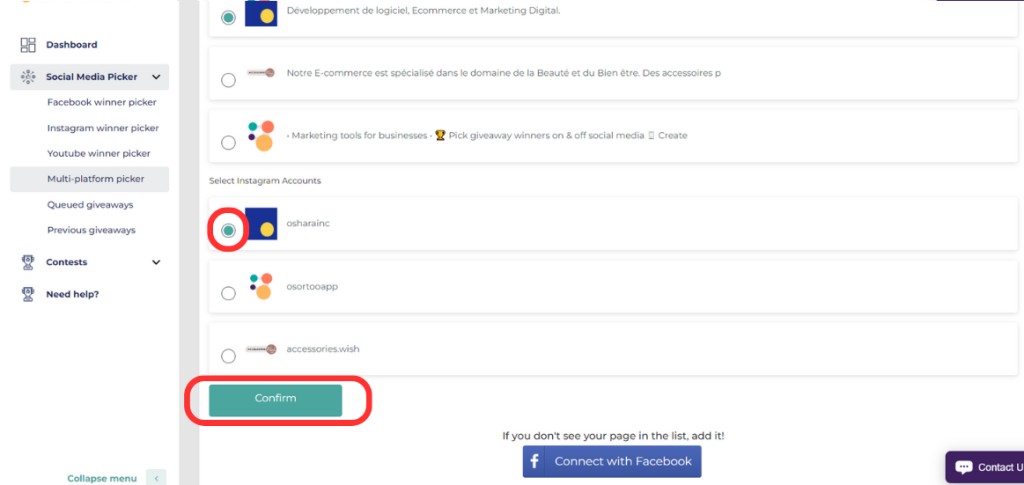 Step 6: Select Posts for your Giveaway
First you select the giveaway posts from Facebook then from Instagram.
So select your posts on Facebook. Remember to select posts that have at least 1 comment.
We have a dedicated button for that. And at the bottom you can load your older posts.
Select your posts on Instagram too.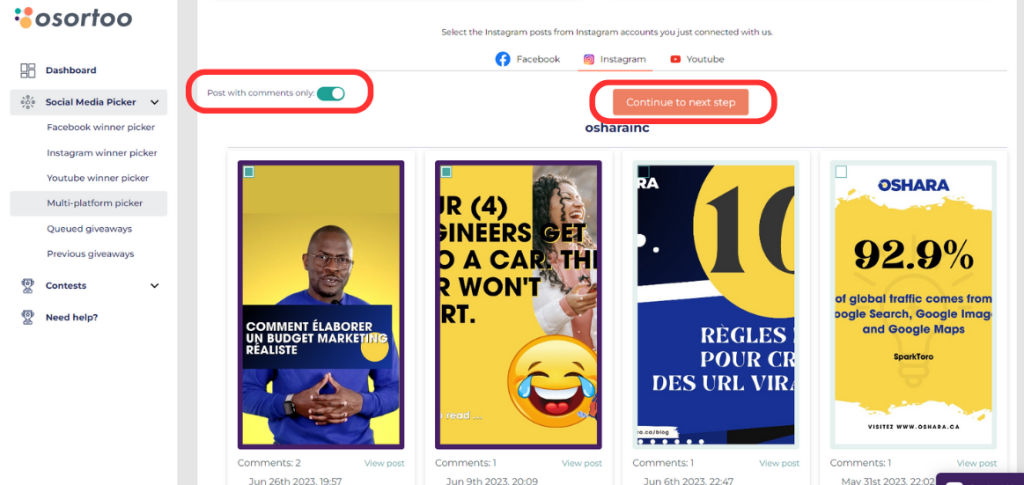 After you are finished, press Continue to next step.
Optional: Make Announcement Story or Reel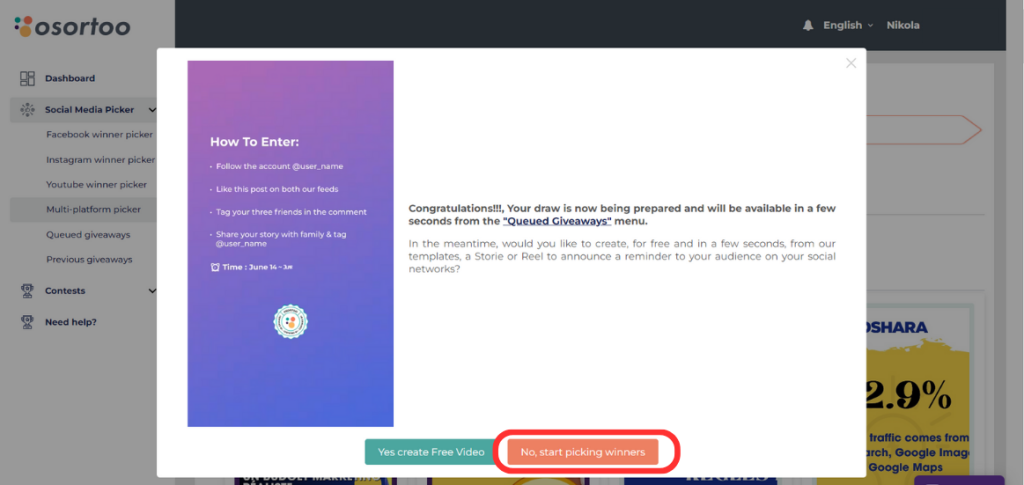 Osortoo gives you the ability to make an Announcement Story or Reel with Osortoo templates.
Which means that you can make an announcement post with our template to announce to your users that you will be picking your winners with Osortoo and to spell out your rules.
For this guide we will go straight to picking winners and leave the announcement for some other time.
Step 7: Select your Winner Picking Filters
Your giveaway will now be processed and you will be directed to Queued Giveaways.
If you have over 300 comments it make take 1-2 minutes to process all the comments.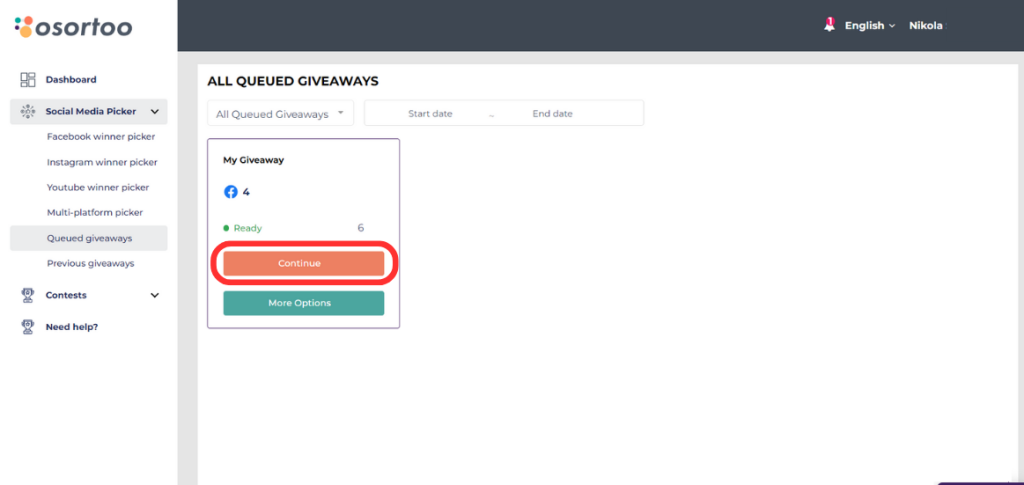 So click Continue and let'select some filters for your winner picking.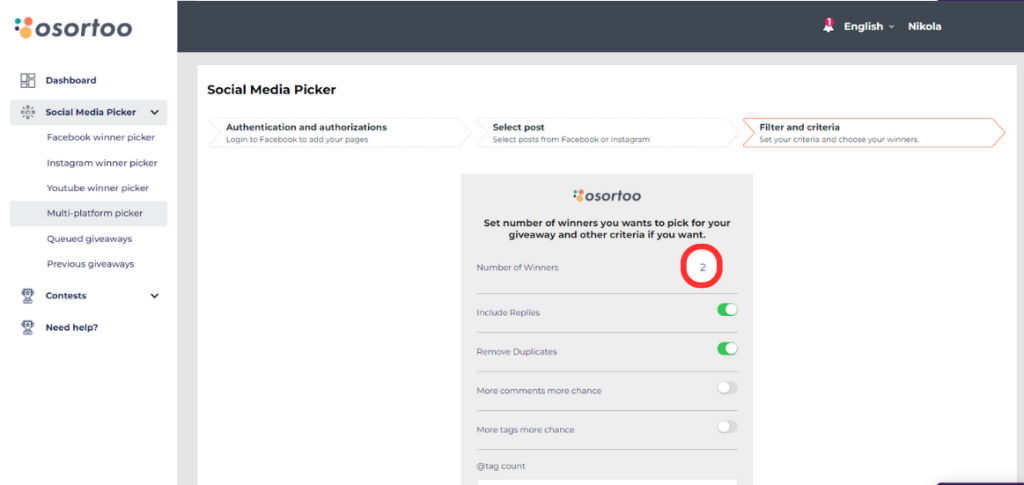 First select the number of winners you would like to get.
Then you can select "Include Replies" that is answers to comments on your post. So if somebody commented on your post, and another person commented on their post, that is a reply.
Remove Duplicates is great if you are making Multi-Platform Giveaway, so everyone would have an equal chance to win.
You can decide to give more chances of winning to participants who left multiple comments and/or mentions.
Ask for a minimum of mentions in a comment as well, to only keep the participants who tagged X people.
Suggest participants, specific mentions, words or hashtags and better target your audience.
Finally, you can add participants manually and exclude a list of people from winning your giveaway. (very useful to remove spams).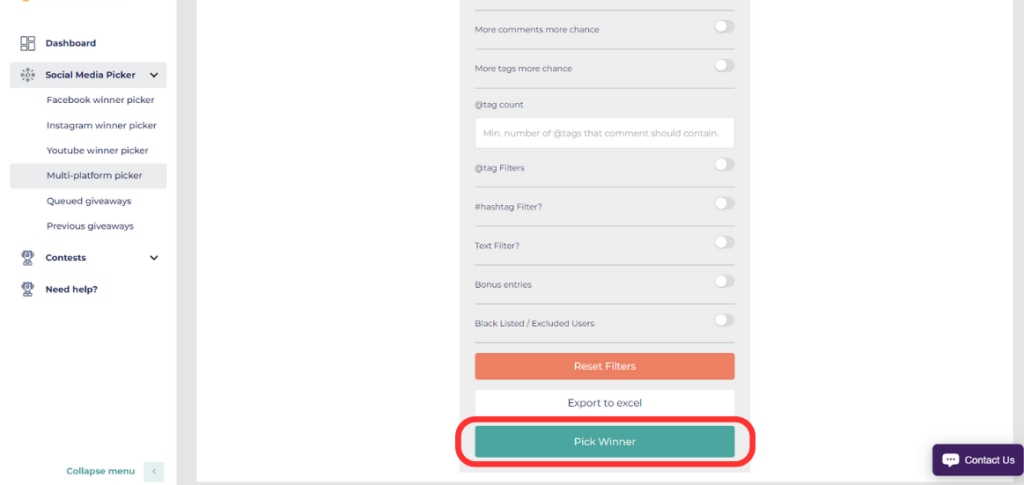 and click Pick Winner.
On the next screen you will be notified how many comments you have, click Pick winner again.
AND FINALLY!
Step 8: You have picked a Winner with Osortoo!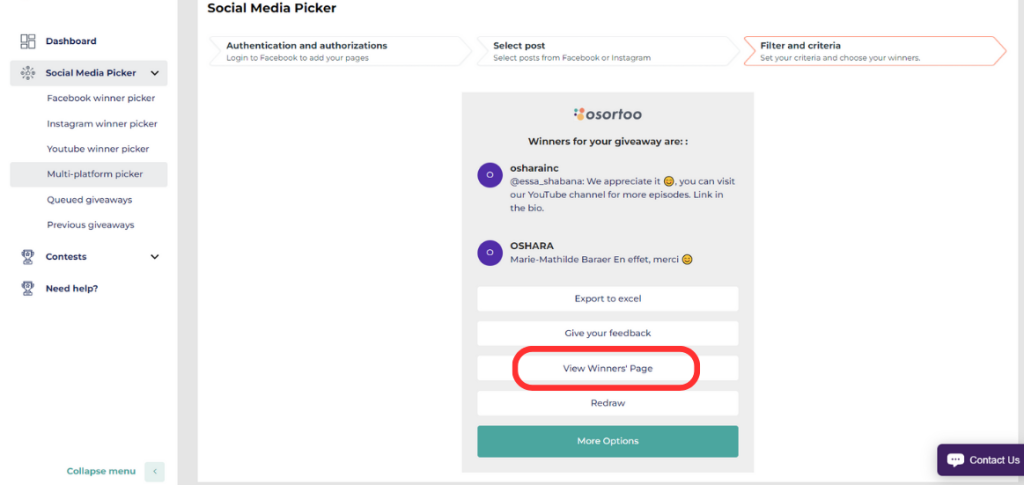 You've got a winner!
Go to the Winner's Page to see all the details!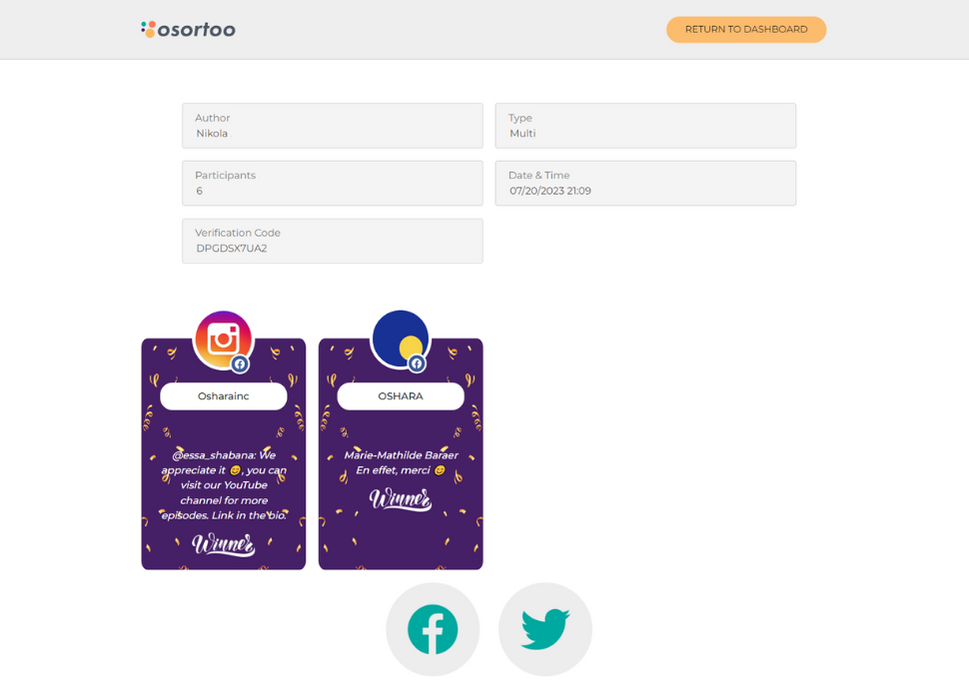 You can see the winners with the details of your Giveaway.
It's all tidy and nicely organized, so you can have all the info in one place.
Next thing is to announce it to your followers.
Step 9: Share it with your Followers
Download the Osortoo Winner Card and announce in an Instagram post the winner to your followers.
This way they will know that you used a special pick a winner app and that it was a fair game.
Download the Winner Story too and add it to your Instagram Story because now everyone will see your post.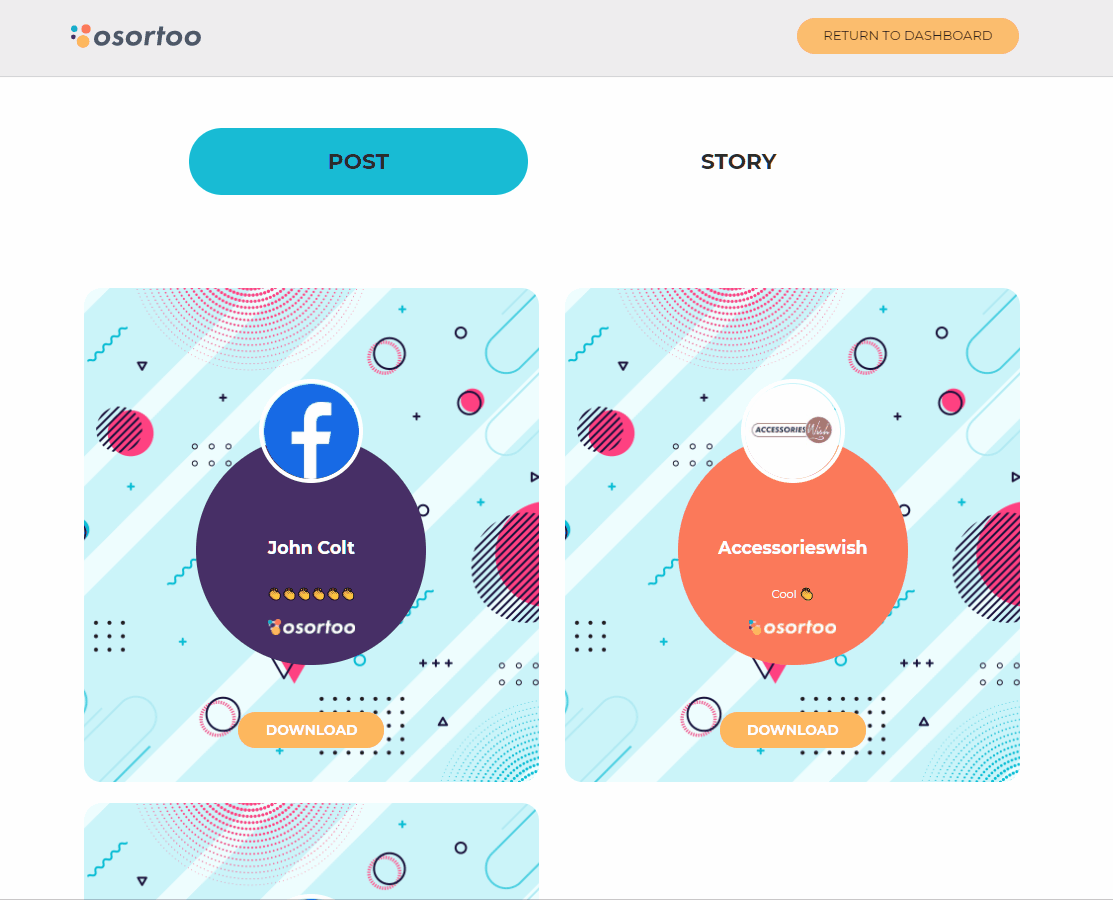 Voila, you just made a successful Giveaway.
Our separate Instagram Giveaway Picker and Facebook Giveaway Picker work on the same principle.
You just don't have the option to choose from the other networks. If you want to do a winner picking with them you have one free try.
Don't forget to check 5 Useful Tips for Running Viral Giveaway & Gaining Followers
It will help you to better structure your contest and make it more viral.
Still not sure whether using random "Pick a winner app" over hand-picking is better? Take a look at this article.
---
*Osortoo is a free tool for up to 50 comments on a given post. You can choose a winner on your giveaway and test our tool, and if you like it you can purchase a premium version later.
The Multi-Platform feature (picking a winner on both platform at once) is a premium only.