How can you use Cyber Monday for increasing your sales?
As a Marketer's point of view, it is important to offer discounts that you can bear. It means you need to do some research on the items which people are likely to buy on Cyber Monday.
Cyber Monday is the e-commerce term referring to the Monday following the Thanksgiving weekend. Online retailers usually offer special promotions, discounts or sales on Cyber Monday in contrast to he Black Friday sales, which was confined to the brick and mortar stores, at least this was the idea initially.
Traditional retailers, meanwhile, offer exclusive, website-only deals on Cyber Monday. Some think Black Friday and Cyber Monday have merged into a combination of brick-and-mortar and the online shopping experience that has blurred the difference between these days. Due to the digital era presumptuously Black Friday offers discounts online as well.
Whilst the pandemic of COVID-19, has contributed in online spending on 2020 Black Friday being $9 billion and Cyber Monday being $10.8 billion. These numbers proves that people are more comfortable buying online.
SELLING STRATEGY FOR CYBER MONDAY
You have heard a story from your close friends, "I went to buy curtains there but the Electronic items were on 20% discount so I bought a new LED for our living room. Oh, we were thinking about renovating the living room and it is a good addition to it."
You bet, they spent money from their credit cards that has to be paid later. That is what happens in these sales. You have to be clever enough to place your product on discount on right time but, most importantly, you need to be seen offering a discount. If no one can see that you are offering a discount, you will not make more sales, even on a Cyber Monday.
1. VISIBILITY
Your product is sold when you are visible in search results. How to increase visibility? Offer something more than a discount. Use right hashtags on social media and your website. Offer trendy products to be in top results. Read about how to use hashtag strategy? Cyber Monday occurs four days after Thanksgiving. It promotes shopping online hence it remains online shopping day of the year. You have to start your campaign from July to be on top on the pyramid.
2. UPDATE SITE
Update your site with all the products, the latest discounted deals, Moreover, you need your inventory up to date. Your amazing deals will make customers come to your website on the day they are promised to entertain the discounts. For example, one of the website has already updated their Cyber Monday Sale.

3. SPEEDUP LOADING OF ECOMMERCE WEBSITE
If you are having your own website, then you need it to be super fast. Most of the customers leave website if they are kept waiting for 3 seconds. You have to keep a developer within your team incase of emergency. You don't want a site-crash ruining your Cyber Monday.
4. ONLINE MARKETS
When it comes to online sales, we think about some major online markets. These online markets include eBay, Amazon, Allegro, Flipkart, Walmart, Etsy, Cdiscount, Alibaba and many more. Yet to our understanding they are far more stretched, people sell on Facebook and Instagram as well. People conduct live auctions on YouTube. Hence you must increase the point of sales.
5. SHIPPING
You will be shipping he online orders, hence it is better to update your price and deals package with your shipping company before handed. Why? You might not get best deals because everyone one is excited about Cyber Monday. It is better to keep your agreement and deals signed 4-5 months earlier.
6. EMAIL MARKETING
People do care about emails and if you keep reminding them about Cyber Monday using your re-targeting strategy with their deals in the email, they will surely check out your website at Cyber Monday for same deals.
7. SOCIAL MEDIA PROMOTION
Facebook and Instagram provide businesses with great to target potential clients. With the help of these tools, you may promote Cyber Monday sales to interested customers.
However, these platforms may be employed for much more than just advertising. E-Commerce offers connectivity with Facebook, Instagram, and other platforms so you can market to customers immediately when they view your products.
8. LEAD GENERATION
This is one of a reason that you need phone numbers and email addresses of the customers. You can get the potential customers on board for all the seasons. It includes for upcoming Christmas shopping season. Even if people wander over website on Cyber Monday are reluctant to buy, they might come back on the Christmas holiday season. You can always retarget the items they have looked and searched.
9. STRATEGIC ALLIANCE
Normally in business terminology, this is called Co-Branding like Marketing of Coca cola with KFC, Printer is marketed with printing papers, Star Bucks with Dunkin Donuts. When it comes to Cyber Monday, Thanksgiving, Black Friday and Christmas, you need to do these strategic alliances to sell complementary products with each other.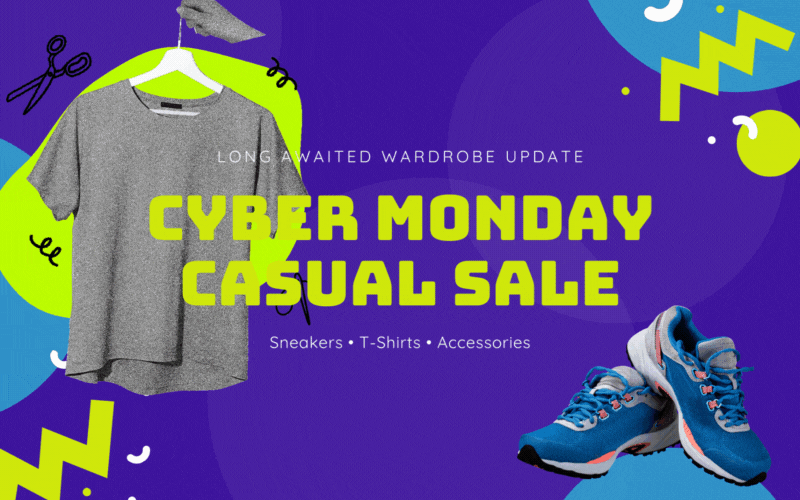 10. EXCLUSIVE DEALS
People love getting something extra. One T-shirt free on purchasing two pair of T-Shirt. You need to show your deals that could include sale on toys, electronic items etc. etc. You should offer some discounts, make them win prizes with lucky draw.
11. GIVEAWAY STRATEGY
You know that some items at your stock are just not right to keep for another year. Offer a giveaway on those items, let them be the bread crumbs that show path to your online store. You need to know How to run a viral giveaway promotion? How an app for picking a winner can change your social media following from 1000 to 10000? you just have to effective.
You can conduct a contest from winning exclusive discount on some expensive items. Run these contests on social media prior to Cyber Monday to create a hype for Cyber Monday deals. The more people engage with your business/website, the more you will earn chances of being visible. Read about Social Media Giveaway Picker Competition.
You can download app for picking a winner, if you think you need any help regarding using this app. Visit the website and you will get a detail on app for picking a winner. Why using app for picking a winner? This is because, it will help you choose from 100s and 1000s of entries effectively. More over people will believe more on the results drawn from app.